A list of Top 8 SaaS Account Management Best Practices to help you grow your existing accounts and increase revenue.
#1 Define Key or Strategic Accounts
Start by identifying customers who contribute a significant amount of revenue to your portfolio, or have significant growth potential, or have some other significant strategic value (live case study in specific vertical, huge brand logo etc.) and ensure these are agreed upon internally and tracked separately.
#2 Focus on Customer Success
The ideal Account Manager should be a problem solver who is sensitive to the client's needs and spends time and energy to make them successful. Be willing to learn and become an expert in the customer's business and make the connection between the client's needs and your company's ability to help.
#3 Know Your Customer (KYC)
By developing in-depth customer knowledge, account managers should be able to identify explicit and implicit account risks. Deep knowledge about client needs as well as the stakeholder's interests will enable your team to continually reiterate the value proposition to the client.
#4 Ensure Cross-Functional Collaboration
Smart Account Managers also take on the effort to ensure there is alignment between 'Product Management' and 'Marketing' & 'Sales' and 'Customer Success'. Also, ensure customers have access to support tools enabling them to customize the platform for themselves, and that 'Customer Support' responds appropriately for the cases where self help is improbable.
#5 Build Stickiness
The days of creating dependency are gone, instead focus on creating stickiness in appropriate ways. This can be done through operational value-adds, support through insights, channel partnerships, technological help through systems integration & business support through special terms and financing.
#6 Soft Upsell & CrossSell
Generating leads inside the customer account is a core skillset of the Key Account Manager (KAM). By getting answers to questions raised by client stakeholders, the account manager should be able to better serve the customer by matching the solutions being sold to the demands of the business.
#7 Move from QBR to QVR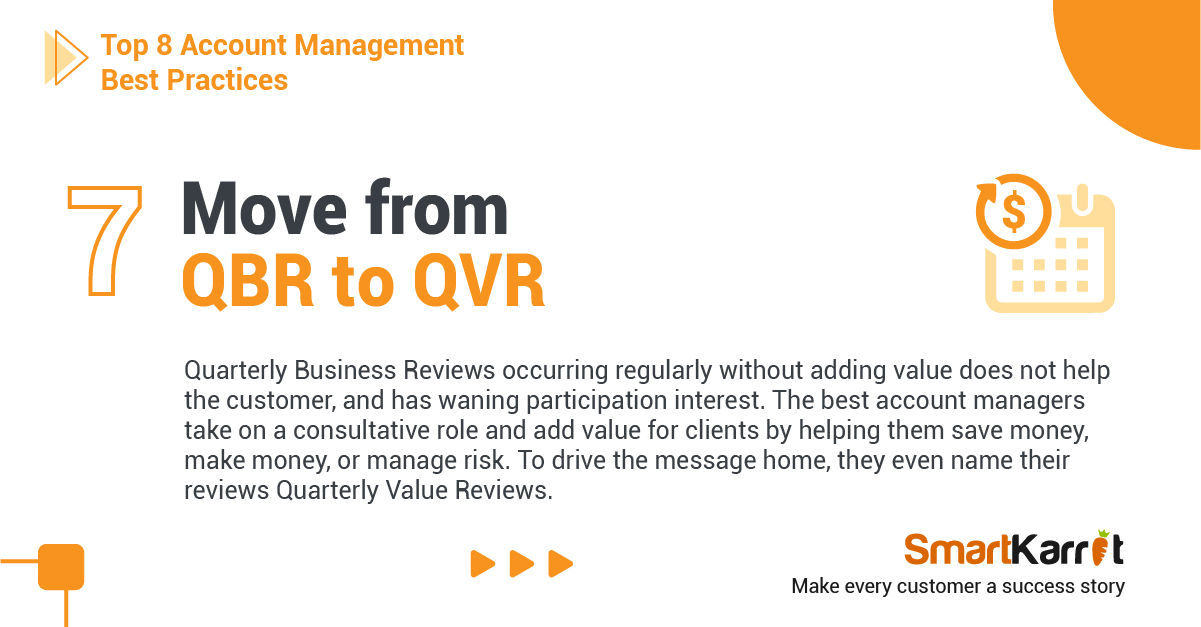 Quarterly Business Reviews occurring regularly without adding value does not help the customer, and has waning participation interest. The best account managers take on a consultative role and add value for clients by helping them save money, make money, or manage risk. To drive the message home, they even name their reviews Quarterly Value Reviews.
#8 Move from Insights to Actionable Insights
Account Management works best when the Strategic Account Managers (SAM) take on the responsibility to not only provide insights on the business (challenges or areas of concern) to the customer, but also share plans or ideas on how to action them. This provides the REAL value and helps the Account Manager become a 'trusted advisor'.
Read through these top 8 SaaS Account Management Best Practices and do let us know in the comments below if we have missed on others.