Human makes mistakes and so do companies and that is perfectly fine. But, is it too late to say the three golden words, 'I am Sorry'? Let's face it – it is all part of being human. When something does not go out as planned, what really matters is how you handle the situation and amend it at the earliest. While most customers willingly forgive, some expect a sincere apology. Here, in this blog, we will highlight on how to write an apology letter to a customer and give them a chance to give you another chance. If that is what you have been wondering off-late, you are on the right page. Stay tuned for some exciting tips and some enriching templates to go by. Without any further ado, let us begin right away!
What is an apology letter?
An apology letter is a letter acknowledging that you are sorry for a mistake, delay, or any trouble in the service or relationship. It is written to someone you think could be affected by your action or decision. The issue in question could be a genuine mistake, wrongdoing, blunder, misunderstanding, or a written error. The apology letter is a formal letter to apologize for any inconvenience caused and reassure you about not repeating the mistake.
What should a letter of apology include?
The apology letter is an important formal document that shows you are sorry. The key elements of a good apology letter are
Be apologetic and sorry about the mistake or issue
Accept the mistake and take responsibility for whatever happened. Try to give a background of the issue in a succinct manner.
Give unconditional & sincere apologies to the client/customer without excuses
Explain the mistake and issue from your end
Ask for forgiveness
Include contact information of who can be contacted
Provide clarity on next steps and expected timeline
Offer coupons or rewards to them to salvage the situation and redress their worries
What should you do after writing an apology letter?
Once the apology letter is sent, it doesn't mean everything is fine. You need to follow up with the customer about the problem and issue.
Closely track, monitor progress & follow-up until the given ticket is close to the client's satisfaction. This is important to understand if the customer's problem has been solved to their wish or not.
Get feedback to make sure the client turned positive & have a record of it. This will ensure they are satisfied and help you learn from your mistakes.
Be conscious of the legal ramifications while sending an apology letter to fix the issues. In some cases, legal issues may crop up if there is a slight on their privacy, data, or personal information. Make sure to be wary of this and enhance your relationship by working on reducing the wrong mistakes.
Apology Letter Examples
1. Accept and Admit your Mistakes
Now that you have already committed a mistake, it is better to own it and not beat around the bush unnecessarily. If you are not genuinely sorry about the issue caused by you, it is better to not flaunt a fake apology just for the sake of apologizing. And a customer will instantly get to know this when you are doing so. Therefore, get your cool together and try to analyze the situation in a better way. Study what went wrong and mention that in the apology letter to the customer.
2. Relax and then Write the Customer Apology Letter
It is obvious to get all riled up when you see someone complain or talk back rudely about your business. And that is understandable. On that note, we also know what happens when we revert in the heat of the moment and let the fire turn into a conflagrate. This will only make things worse and put your company in jeopardy of losing out on an angry customer. Hence, relax and collect yourself together. Go out for a walk, have some hot chocolate and then type down your customer apology letter. Remember, this is a stark representation of the integrity and personality of your brand.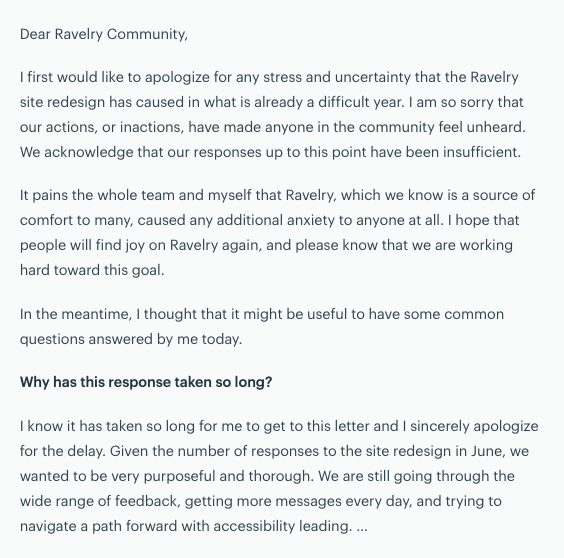 3. Explain what went wrong
You want your customers to be satisfied with your response. You do not want to throw an apology that you did not mean. This will just make your customer angrier and a good reason to churn away instantly. However, when you own up to your mistakes, you stand a chance to show the trustworthy side of your brand and give your customers a second chance to do business with you. Analyze the situation and know what went wrong. Come up with instant solutions that can fix the mistakes and assure your customers that their concern is being taken care of with immediate effect.
4. Offer to Repay or Repair
The second your business makes a mistake, it is the customers who lose out on money, time and most importantly trust in your brand. Simply apologizing just for the sake of an apology letter would bring you no good, you will have to clearly explain how you plan to redeem yourself from the situation. This is where you can bring aboard a plan to repay or repair the existing issue. In simpler words, replace what is lost. Just in case, your customers lost some money on the transaction, propose to reimburse the whole amount without any delay. Additionally, you can also proffer discounts, coupons, or special promo codes as well.
5. Keep them informed with your next Course of Action
No one likes to be in a state of illusion when you have no idea when you are expecting a call back. The same holds true for a customer too. If you have done something in the past that has disappointed them and has triggered them to opt for other businesses over you, perhaps, it is time to step into the shoes of the customer and know what they want. What they truly want is to know what is the next course of action you have taken to mitigate the issue at hand. They want to be informed and alert. Be gentle, apologetic and promise them that this will never happen again.
6. In case of Outages, Apologize and Assure Supervision
Outage Apologies are the toughest. But know that this can call for a big impact on your customer's business and you do not want that to happen. In unlikely and unfortunate cases when you face several hours of downtime alongside lost production data, you will have to apologize to your customers and promise them that things are being taken care of with optimum supervision, at the earliest. You will need to reassure that everything I under control and they have nothing else to worry about.
7. Delay in receiving products
In case there is a delay in customers receiving a product, they can be sent an apology letter. This is important since sometimes customers may expect a certain date to be when they will receive the product.
8. Process or Service Issues
Every SaaS product or appliance needs to be installed in the right way to use it well. The customer may not be fully capable of using the product. The technical know-how can be tough to handle for a customer. In case, they have problems with starting their customer journey due to lack of support, they deserve an apology.
9. Bad Product or service can hamper customer satisfaction
The customer might sign up for something to receive something completely different in many cases. This unrelated product sync can prove to be harmful to customers. You can apologize if the customer has blatantly said they are dissatisfied with the product. An unsatisfied customer can leave negative reviews, which will harm the brand's reputation.
10. Miscommunication can be an enemy
It often happens that communication happens in the wrong format. This leads to delays, confusions, problems, and issues. The best way to beat this is omnichannel communication. However, if the damage has been done, be sorry for it.
11. Be prepared to accept that customer experience is integral
It is tough to understand every person who walks into your store or restaurant. However, you can be genuinely sorry if the customer's experience does not live up to their expectations.
Apology Letter FAQ's
Q 1: Is an apology email/letter a sign of weakness?
A: Everyone makes decisions/ But, how we manage and handle the wrongdoings is what builds character. It takes strength to apologize for a mistake made. It is not a sign of weakness- it is a sign of strength to be able to own up. Being sorry in a formal manner requires security, confidence, empathy, and character.
Q 2: Can an apology letter be used against you?
A: An apology letter is a formal statement. It can be used as evidence in a criminal or consumer court, making it legally binding. However, this depends on the country and native laws to a huge extent. It can be a formal, legal document to show you are sorry for an event.
Q 3: When to send an apology letter?
A: You need to send an apology letter when you are notified of an issue, need to provide clarity on a topic, or you recognize the issue on your own.
In most cases, the customer gets back in a firing mode about what went wrong in some medium- phone, text, email, or social media.26
Parting Thoughts
When we have been wronged, we tend to lose confidence in the ones who have caused us the wrong. Though it might take some time to regain the trust back, it is certainly not impossible. How you place your apology letters to customers makes or breaks a business. This also decides whether or not a customer will get back or choose your competitors instead. Practice the aforementioned battle-tested six tips and you will stand a chance to turn any negative situation into a win for your brand. Remember, not all mistakes have to end up being detrimental. In the end, we are all humans.
---