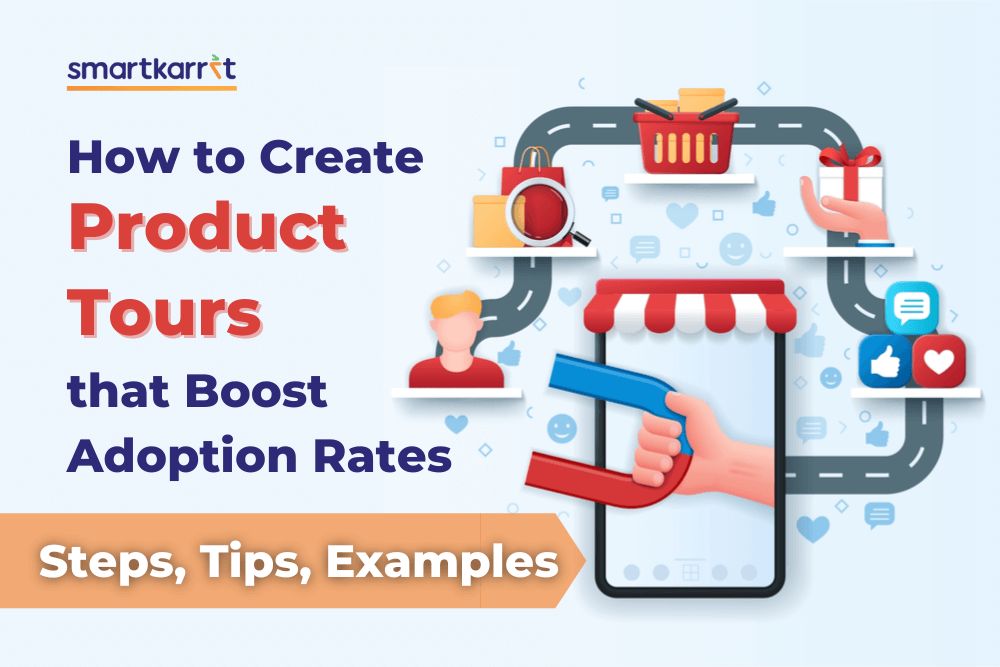 Product tours or walkthroughs will take users to the product and help with product adoption, understanding, activation, usage, and retention. A product tour needs to include all details about the product and help users experience small elements as well. Product tours help users get accustomed to the product, the UI, and ensure long-term engagement.
Product tours are extremely essential. Imagine you sign up to a new platform and have no clue about where to click to proceed and perform a function. There are no instructions or video tutorials to help you understand how the product works. The first part of customer retention is an end-to-end product tour.
How should the product tour be?
The product tour needs to be engaging and reveal the value of the product or software. Superior product tours influence customer behavior and ensure they reach their aha moment.
Customers feel comfortable with the product
Customers can ask questions and realize value from the product
Users can discover meaningful steps they can take
A bad product tour can do more harm than good. It leads to lower product adoption and makes users confused.
The user will not understand how the product solves their pain point
Display everything about the product at once
Do not let the user learn on their own
Steps to Build a Winning Product Tour
Product adoption can be improved if the product tour is great. You can open new growth opportunities and increase revenue consistently. You need to keep certain steps in mind to streamline the product tour. The goal of product tours needs to be to ensure users get their aha moment and realize the value of the product.
1. Chalk a product tour plan
The first step to building a winning product tour is chalking an effective product tour plan. The plan needs to include elements like what the product is about, its key features, the value it offers, and the problem it solves.
2. Look at simplifying the user experience
Product tours must look at helping users use key features that align with their roles. The user experience needs to be simplified so that learning curves are improved.
3. Keep interactive elements in the tour
Do not make the product tour a one-man- show. The product tour needs to include interactive elements and actions that help learn by doing. This alone will increase the scope of retention of knowledge.
4. Measure the impact of the product tour
After the product tour, try to understand how many users or customers felt the value. Especially in times of customer onboarding, product tours are crucial. You need to ensure your product goes off as smoothly as the tour, and hence measuring the impact is important.
5. Take product tour feedback seriously
Once the product tour is complete, you must take feedback if users found the value they signed up for or not. This will help improve and customize the tour for others leading to increased retention and product adoption.
Tips to Build an Effective Product Tour
It is important to design customized product tours for different segments to build an effective product tour. These basic principles will make it simpler to reduce time-to-value for customers.
Focus on value
The focus of the product tour must be on value. Highlight features that give them value and keep their core needs in mind. Instead of beating around the bush, you need to introduce the pain point related to the aha moment. The primary features that solve the problem need to be in the product tour plan first.
Have a defined path
A plan with a defined path will ensure you don't miss out on many steps to activation. A clear path will ensure no deviation, and every tool feature is demonstrated.
Personalize the product tour
Make your product tour as personalized as possible. Instead of a generic, fits-all approach, you need to create customized product tours. These need to match product segmentation groups for an improved customer experience.
Design consistency must be maintained
Design consistency is important. You need to ensure a seamless flow with your product tour design. You must not change the color or pattern in between to create a disturbed flow. The design consistency needs to be clear and directed at customer engagement.
Trigger actions to improve understanding
Don't make the product tour one-way traffic. It needs to be interactive and interesting. Product tours must have trigger points that lead to actions such as clicking a button, watching a video, or even a quiz. When the user checks in to the product, it is important to ensure they are engaged from the start.
Don't keep it too long
Don't create a super long product tour. The product tour needs to be short and crisp. It needs to answer all the questions about the product and ensure users get the product's value. If the product tour is too long, they might not actively use the product since they lose the essence.
Examples of Product Tours
With the steps and tips regarding product tours ready, you can now take the help of some inspiration.
Asana
Asana is a popular project management tool that is used by companies globally. Their product tour is remarkably simple and user-friendly. Once a user signs up for an Asana account, their product tour starts with creating their first project.
Users can note how to add a project, minimize one, color-code it, and use different keys. Users in the product tour also learn how to resume the product tour if they want to do it later. Users can also ask questions about anything during their product tour. It is also possible for users to receive personalized guidance to offer more value.
WordPress
WordPress is among the world's most popular CMS platforms. The team at WordPress goes about with the product tour in a visual manner. Gifs, videos, and visual elements show how various features come to place. It is also possible to perform those actions with the product leading to user learning from experience.
WordPress also has an extensive resources section that users can check out when they need any support or help. The entire product tour is done to ensure users have a reference in case they have any questions.26
Bottom Line
Product tours are a fantastic way to get users fairly close to the product and realize its value. Product tours essentially help onboard inexperienced users, drive product adoption, and help users reach their aha moment. You can choose minimal, simple, clear product tour formats to start with. It is also important to gather feedback after completing a product tour.
---