SaaStr is the world's largest community of SaaS founders and executives. They have conducted events annually since 2012. SaaStr 2020, however, has turned out to be different from all their previous events.
SaaStr 2020 was cancelled because of the COVID-19 pandemic. Instead, they held a successful online event with more than 50,000 attendees. If you were not able to make this spectacular event, here are some highlights and key takeaways from SaaStr 2020.
1. The cloud continues to grow at a massive rate.
The growth of cloud technology climbs rapidly in the above graph. By the year 2025, it will surpass 50% of the market share in the software industry. Through this graph, we can see the impressive growth rate of SaaS industry.
The cloud market grows with a CAGR of 20% whereas the whole of software market is growing with a CAGR of 10%. Within a decade, we will witness a massive shift as software vendors use cloud services as their delivery model.
2. In-person events won't resume for most until 2021.
Bizzabo conducted a survey of nearly 400 event and marketing professionals to understand the current global situation. They found out that 82% of respondents plan to wait until 2021 or later to resume in-person events. The SaaStr annual event is just an example for the myriad of online events that are planned to happen within the next year.
3. Customers have become more ambitious.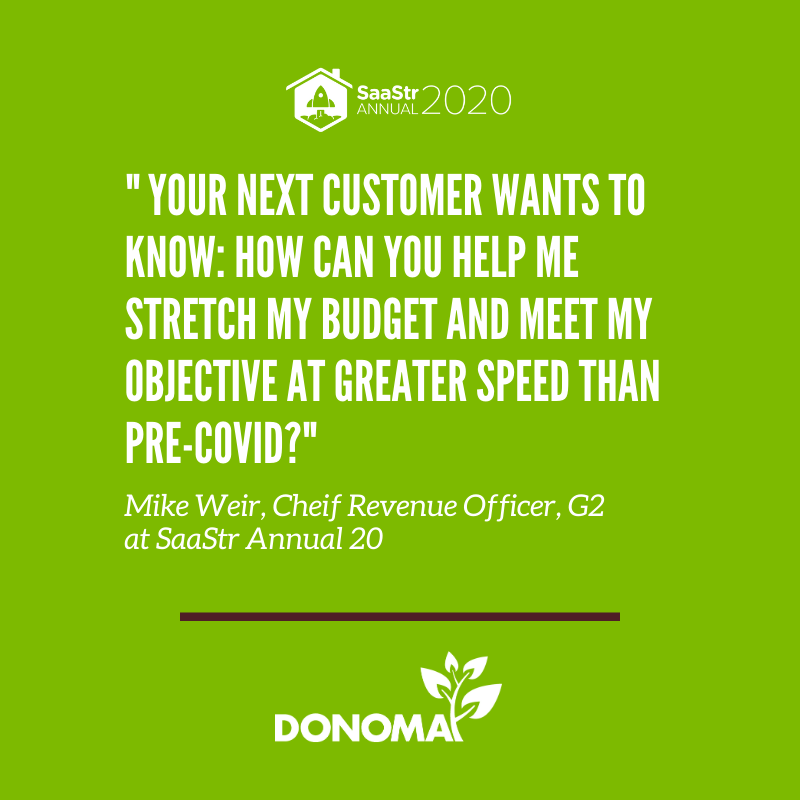 Forget about the loss of business during the COVID-19 crisis. Instead, those focused on customer success have become more ambitious than ever in terms of achieving their goals. They are eager to turn this challenging time into an opportunity.
Customer success executives must quickly adapt to the pandemic and help customers reach success at an even greater pace.
4. India's SaaS industry is growing faster than other nations.
India's SaaS industry is growing almost three times faster than the global SaaS industry, and twice as fast as the US market. With so many innovations happening through Indian startups and the location democracy of cloud businesses, India is topping the chart in the SaaS growth.
In addition, three-fourths of the total revenue generated by India's SaaS industry is through global exports.
SaaS companies no longer need "hot" locations like Silicon Valley. If the product-market fit can be found online, it hardly matters where the company is located. Even tier-2 cities in India are jumping on the bandwagon with new SaaS startups. With SaaS, the period of location monopoly has ended as talent working remotely can be found anywhere.
5. Net Dollar Retention is more relevant than other churn metrics.
Dave Kellog, one of the SaaStr 2020 speakers, emphasized the importance of measuring Net Dollar Retention (NDR) over Churn rate or Retention rate. NDR gives the exact percentage of revenue retained compared to another period after taking upsells, downgrades and churn into account.
Kellog advised that public SaaS companies use NDR extensively and suggested that private companies should follow, using NDR as a key metric to measure and manage.
6. Recurring business is your minimum threshold.
The comparison between recurring and acquisition business cannot be put more eloquently than Callum's tweet. Indeed, when you block all the leaks in your SaaS business and achieve a good retention rate, recurring revenue becomes your minimum threshold, the least revenue you might generate. All new acquisitions build over and above that.
Recurring revenue is the safety net of a business that can be leveraged for investing further into new acquisitions.
7. Company culture can be a powerful competitive advantage.
Company culture is becoming more prominent than ever as a competitive advantage. Customers observe your company's internal environment. The culture clearly reflects itself in client communication.
Some companies take it so seriously that they don't mind showcasing their culture to prospects. Adam Blitzer, the founder of Pardot, says this on the subject:
"Because we thought our corporate culture was so strong, we made it part of our sales process. We tried to expose our prospects to our culture."
8. Vanity Sales KPIs should be avoided.
Sales KPIs should not be the number of calls they make to prospects. Representatives can call low-quality marketing leads just to add to their numbers. Rather, Number of Conversions will no doubt be lower than the number of calls placed, but it will always keep you from being misled.
9. Acquiring a new customer is 10 times more expensive than retaining existing customer.
If you are in the SaaS business, then this is the first rule of thumb you come across: the clear comparison of cost between Client retention and acquisition. This was reinforced at SaaStr 2020.
The total cost incurred in upselling, expansion, and renewal of contracts is much less than the total acquisition cost shown above.
10. Freemium is still one of the best marketing strategies.
MailChimp showcased that freemium is one of the biggest growth factors. Most SaaS companies have adopted this marketing strategy, allowing a free trial of their software for a limited time. Customers then validate the estimated value they can derive from the software. This year has seen no change in this strategy.
Final Thoughts
Numerous SaaS companies shared their experiences and insights at SaaStr 2020. The key takeaway from this event is that although the SaaS industry has reached a mature age, growth accelerates consistently. The decade to come will witness massive growth in the SaaS sector, and smart software companies are gearing for it.