A list of Top 8 Customer Success Workshops and Training Programs which is helpful in learning everything about Customer Success Management.
#1 Customer Success Manager (CSM) Certification
by SuccessCOACHING
SuccessCOACHING offers access to training modules (annual and monthly pricing) at two levels:
The "Solo" track – For individuals who want to study customer success independently.
The "Team" track – Grants access to the modules to multiple people as a single team.
The courses and workshops provide participants the opportunity to earn an industry recognized certification.
#2 Customer Success Mastermind
by ADOPTTEC
Adopttec's course is aimed for CSMs looking to increase their ability to lead and grow a thriving customer success practice, and for customer success professionals looking to get promoted to a leadership role. Customer Success Mastermind For CS Leaders gives you the skills, tools, confidence and expertise to build and lead high-performing customer success teams!
#3 CSM Certification Program
by The Success League
The Success League's CSM Training Program claims to teach you everything you need to know to be a great CSM. The course consists of 16 parts where all participants learn about the skills required. It includes everything from managing customer portfolios, onboarding new prospects, developing account plans and includes tools that CSMs can adopt right away.
#4 Comprehensive Customer Success
by Practical CSM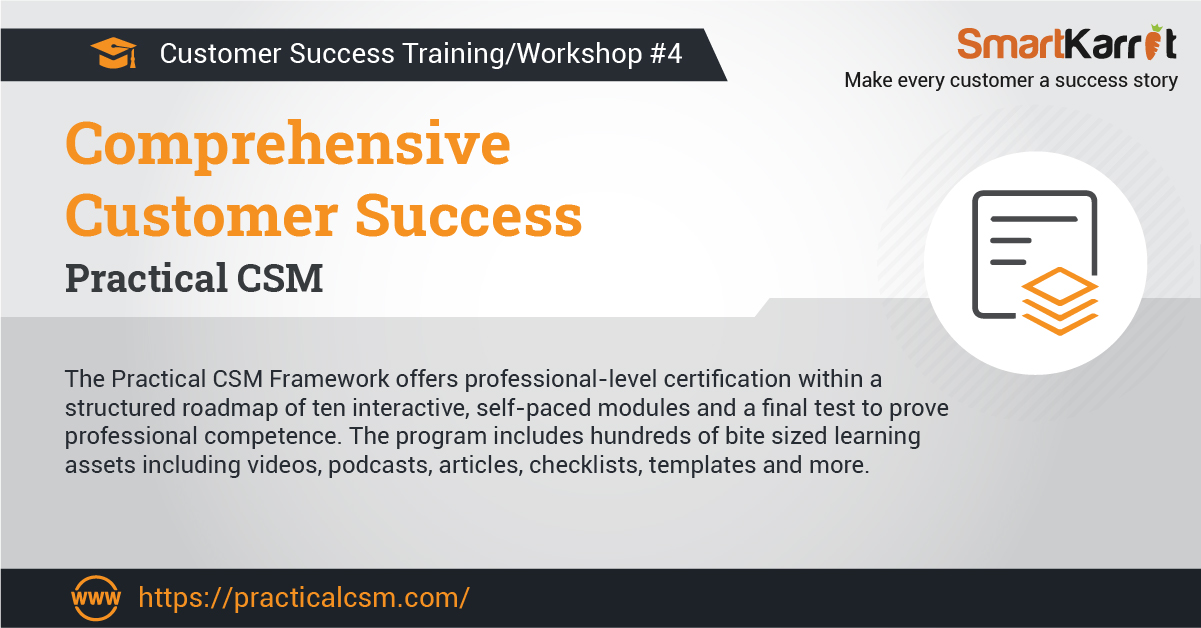 The Practical CSM Framework offers professional-level certification within a structured roadmap of ten interactive, self-paced modules and a final test to prove professional competence. The program includes hundreds of bite sized learning assets including videos, podcasts, articles, checklists, templates and more.
#5 Customer Success Manager Specialist Certification
by CISCO
This certification will help you deliver instant value to your customer relationships. The course is based on the concept of the customer lifecycle and how to optimize that journey and increasing the value realized by customers. You will be able to prove your capability to develop and integrate the right customer solutions. You will be taken through the implementation of adoption frameworks and interpretation of customer usage data.
#6 CS Training & Certification
by TRI TUNS
The online, virtual, subscription and in-person training programs include access to their core customer success online training courses. Here you can find training for both individuals and for teams, and can choose a course based on your current level of expertise within the field of Customer Success. Therefore, whether you are a complete novice or a customer success veteran you can find the right course here.
#7 CSM Bootcamp
by CSM PRACTICE
In this bootcamp course, you will gain skills that can help reduce the time it takes to identify a customer success aspect, form a solution, and build an action plan. Within these sessions, your team will learn how to use the best metrics to monitor your customers at each phase in the customer journey and adoption journey.
#8 Customer Experience Management Essentials
by Roel Leijten
Priced at $10, this Udemy course is for beginners who want to learn the basics of customer success without any prior experience. This training will get you through plenty of practical exercises and the course explains how to map the customer's journey, which is an incredibly powerful way to indicate and improve your Touch-points.18
Do read through these top 8 customer success workshops and training programs and keep us posted if we missed on others!
---