Every phase of the customer success journey, right from onboarding to retaining to growing, helps a customer, as well as the company, wreathe into a symbiotic relationship. On that note, videos have played an effective role in boosting customer success by giving them engaging and personalized content to enlighten and learn from. Today we will hop on to the best ten ways of using videos to do so.
To Get Started with Video Onboarding
For most of you, the term, Video Onboarding could be a 'first'. It is a great approach to begin your first phase, customer onboarding with a step-by-step video. Regardless of your product being new, or having too many steps involved, explain your product to your customers becomes too easy with a video. It is a substitute for the long bulky chunks of text and keeps your customer engaged. Your video can illustrate an overview of your product, how-to's, and demos as well. Look at this exemplary video by Basecamp that gives an overview of their software using a mini case study of how a company uses their product.
To introduce new Launches – Products and Services
If you want to communicate a piece of vital information, say, you are launching an upgraded version of your product, you might want to share it with the audience with a video. In fact, 40% of the customers respond better to visual information rather than plain text. Aside from this, you can also include videos in your email campaigns, website, and chat pop-ups to inform your customers about your new launches.
To trigger Customer Advocacy
Now a customer who is absolutely happy with your product will not take a backseat to announce the same worldwide. They will be willing to share their testimonials and reviews as a brand advocate. These testimonials can then be featured on your site or can be shared across social channels too. Who knows, with this advocate, you could get more of his friends and relatives onboard via word-of-mouth marketing. 92% of the customers believe the suggestions from their friends and family more than ads themselves.
To build a Knowledge Base
Knowledge Base is a handy resource center for your customers to know more about your products, get their queries resolved, and free up your support team's time too. That is where deploying videos are useful to cater to FAQs, common troubleshooting issues, tutorials for key features, and product use-cases as well. 43% of video marketers say video has reduced the number of support calls they've received. One such example is Canva that uses short informative videos to explain its top features.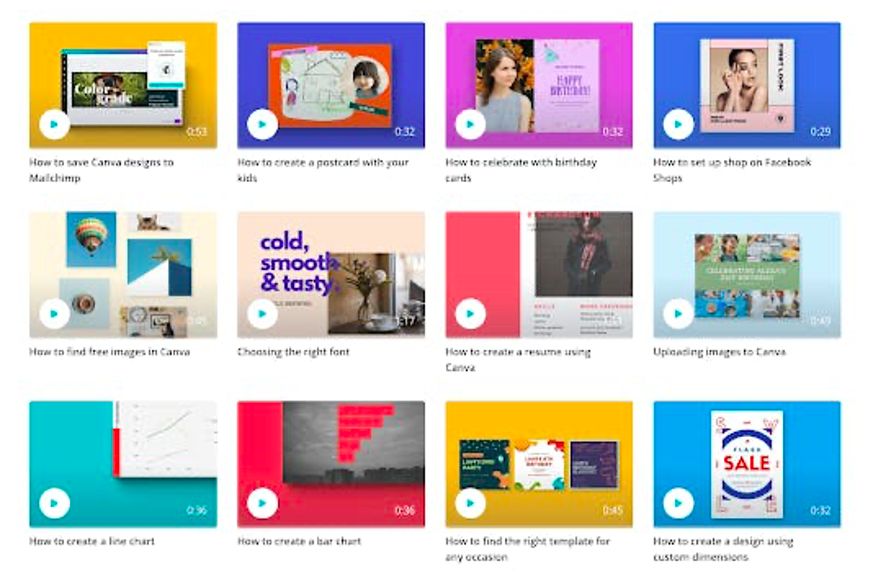 To follow-up with your Customers
Once you are done with a customer meeting, you can send them a quick follow-up email that walks them through the actionable items and prep them up to achieve their desired results. This is where you can create a short video for them to watch and act on. This way, you will not have to worry about following up repeatedly. And they can see the most important takeaways from the meeting and focus on taking action for the next meeting to come.
To enhance Customer Loyalty
Video creation has become essential to grow your business and convert your one-time prospects into brand ambassadors. If the customer success managers can deploying video marketing in the right manner, there is so much that you can do rather than just educating your customers about new promotions or products. As much as half of the customer base, 54% of them like to see more videos from their favorite brands. Using personal yet informative video marketing is a great way to boost customer retention.
To reduce churn rate
Churn rates take a notch up when customers are disinterested in your products and your business. They do not have anything to look forward to and stay back. Videos leave a stronger message for the viewers as visual material is easy to remember and comprehend. An average viewer spends 88% more time on a website with video content and 72% of the customers would rather learn about a product or service via an explainer video. This is a great way to convince your clients to stay loyal to your brand and eventually churn less.
To deliver a unique Customer Experience
Video gives you the chance to personalize your communication and engage better with your customers. You could use a video to celebrate a milestone of a customer, congratulate them on their special days or invite them to VIP events as well. This is not only great for CX but also boosts your SEO and content marketing to an extent. With video, you can stand to rank better and rev up your reputation as a brand.
To talk to them about Contract Renewals
If you are seeing the clock tick and approach the end of the month or year, it might look tense to have a natural conversation with your customer about renewing their contracts. Videos can be your friend here to break the ice. Start the video by introducing your top features and a few examples of success in the past. Slowly start drifting to the point and bring up the renewal options. Ensure you put up the deadline dates and other renewal options as well for the customers.
To gain Social Media Outreach
Posting videos on the powerful social media will help you connect and reach out to your customers in a better way. Emotive, educative, and entertaining videos are something that your customers expect from you. This also helps to promote your business and strengthen your relationships with existing customers.15
Parting Thoughts
Needless to say, videos are an effective tool to foster a stronger bond with your customers and help them, stick around for long. While many other factors aid in boosting the success of your customers, videos can act as a catalyst and simplify things for you. Start deploying videos and you will soon start to see a positive difference already.
---