For any new business owner or entrepreneur, success is very important. There are some yardsticks across which it is measured. One of them is how much customers need to success, buy the product or service, and continue using it.
To achieve this, it is necessary to get an understanding of how customers behave, the market, demographics, selling factors, and most importantly buyer needs and persona.
Identifying customer needs is the most efficient way to boost the performance of any brand. Every idea needs to be validated by customers. If ideas are not working, it may be something that matches customer needs. A vital part of the growth of any business is customer satisfaction. To satisfy customers, it is important to know customer needs.
Understanding customer needs will help companies customise and tailor marketing, sales, and customer engagement. Knowing the needs of customers will impact product development, research, customer service, and more.
What are Customer Needs?
Customer needs are those needs that drive and motivate a customer to pick and purchase a product or service. The need can be anything that drives them to reach a solution. Any motive that makes a customer buy a product is a driver in their decision. This need is an opportunity to give value to customers in exchange for monetary or loyalty value.
Customers usually don't purchase a product. They hire an expert (product/service) who can complete the task or job. Businesses who identify needs can turn them into opportunities and avoid conflict or losses.
Here are the right ways to identify customer needs to achieve customer centricity.
How to Identify Customer Needs?
There are many ways to identify customer needs. It is possible to identify customer needs from a variety of sources like-
Current customers
Former customers
Online forums
Your self
Employees
Reflect on Customer Behaviour
It is important to reflect on customer behaviour to understand if they have some lacking. Once you identify aspects you want to reflect on, it helps forming associations with the product. Asking important questions like-
Motivations
Available options
Goals or objectives
When you keep customer behaviour in mind, it is easy to understand their needs.
Notice behaviour
Reflect and notice your own behaviour. What are some aspects that you feel can change? What are the options ahead to choose a product? Also, check out of there are any actions or compensating behaviours when a product or service is not upto the full expectations of the customers. Does it fulfil customer needs completely?
Build observations
With the information from the former, it is necessary to build observations and learn about the decision-making process from that. These insights can be useful in highlighting opportunities, strong spots, threats, and issues if any. It is also easy to explore how buyers choose their products from this point.
15+ Types of Customer Needs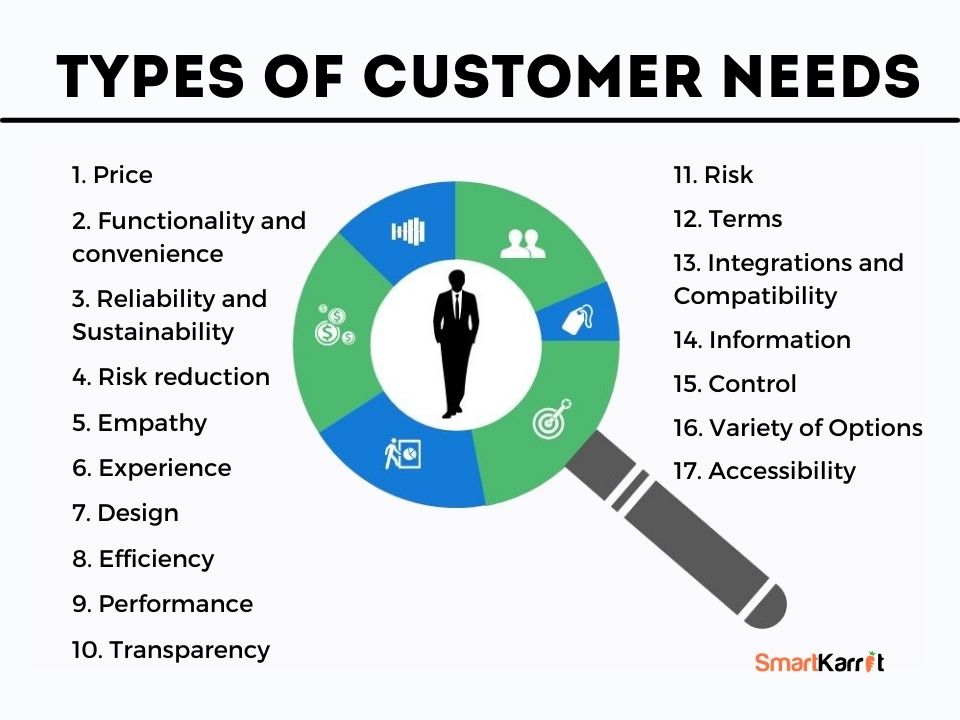 Here are some common needs of customers. When customers look at a product, they analyse it from various types.
Price
Customers value price point a lot. If they feel the product is priced way higher than the expected, or competitors, they will not prefer it. If there is quality in the product or not, customers will consider. Nearly 60 percent of customers feel that price is the most important thing they consider before buying anything else.
If products are similar or unique, chances of price being a deciding factor are more. Offering discounts, promo codes, and other offers on product bundles will help immensely. These gestures will go a long way in meeting customer needs and maintaining loyalty.
Functionality and convenience
Don't we all love products that are easy to use, navigate across, and work with? For any product to meet customer needs, it needs to be convenient and useful. There needs to be a level of functionality involved in products. When you identify customer needs, it is better to carve products around it. This will also help adapt to customer needs in a better manner.
Most companies keep releasing versions of their products to understand what features and aspects fit customer needs the best. Take for example, SmartKarrot's product adoption feature. It helps companies understand how each feature is performing. That helps improve and hone these features for better retention.
Reliability and Sustainability
The service or product a company is trying to sell must be reliable, sustainable, and convenient. These are important to function in a manner any customer will love. Customers need to rely on a product to become loyal customers. One aspect of this is bringing out reliable, high quality, sustainable products that are convenient.
If your product usage is too complex for usage, chances of customers using, or understanding are less. Thus, it is needed to make sure product is well updated and marketed as per customer needs.
Risk reduction
Despite how awesome your products are, if customers perceive them as risky, they will not turn up. Your products need to be reliable, efficient, and trustworthy. Having a transparent return policy, free trial or guarantees will help reduce risk heavily. An important factor to consider so as to reduce risk for customers is having a transparent policy. Calming customers fears will show them that they are not in a faulty, risky company. The product needs to be tested from a safety point always.
Empathy
Customers love brands and customers who care about them. As a matter of fact, more than 50 percent of people who experience bad customer service never return to the company. This means a good customer experience is what customers need. Customer needs involve those products or services that are empathetic to their requirements.
Experience
In order for customers to use your product, they need to be clear, concise, and well put. Customers need to have the experience to use the products effectively. If the customers are new to the field, they might not understand the level of complexity of the company offerings.
Design
The UX design is everything. If a customer faces a problem rummaging through the website or user page, it needs to be sorted. For customers to have the motivation to retain with the company or do business in the first place, the UX design needs to be top-notch.
Efficiency
What if the product and the customer are not on the same page? The product/service needs to be streamlined for the customer to make sure the process is not time-consuming.
Performance
Customers look for performance. The service or product needs to be on top performance so that customers can achieve their goals. Customers will choose products that are high performing.
Transparency
The company must be as transparent as possible with customers. Customers deserve an openness with respect to the business in terms of product, service, pricing, and more.
Risk
If there are any risks involved in associating with a company, that needs to be accounted for. If a customer needs delivery insurance, they need to know of the risks involved.
Terms
Customers also require that they match with the company in certain terms of service. For instance- terms like privacy, GDPR, and more need to be kept in focus. Customers are motivated by similar terms. If there are lesser legal complications underway, they would be more interested in partnering.
Integrations and Compatibility
Customers also prefer brands where services and products work with other products or services. The integrations need to be compatible with their requirements. For example- if a customer is using a particular integration, they would prefer to have a partner using or capable of providing in that integration. Compatibility in technology is also something customers need.
Information
Customers having the right information will be helpful in making any purchase or association. Businesses need to offer customers educational content, videos, and research that will help them successfully use the product or service. Customer needs are met only through information.
Control
Easier returns, subscriptions, terms and more are what customers prefer. When they feel like they are in control of the company, they will feel at ease when it comes to operation.
Variety of Options
Customers need a variety of options in product, subscription, services, communication, and payments. Customers having that freedom of choice makes them feel important and valued.
Accessibility
Customers require that they must access support and service teams of the other firm. This means multi-channel communication experience. When companies are more accessible, chances of them fulfilling customer needs are more.
What is a Customer Needs Analysis?
A customer needs analysis is one that provides a deep analysis into customer behaviour to make sure that customer requirements match with product benefits or needs. It helps develop the brand and product better and offer the customer better value. To do a customer needs analysis, here are the following steps.
Customer Needs Survey
A customer needs analysis thrives on customer surveys. These surveys will help companies understand their position with respect to customer needs. The survey needs to include questions relating to-
Product awareness
Brand preferences
Competitors
Why-What Analysis
Once you understand the survey, you need to figure out why a customer would buy your product and what that would be. You can then filter the bucket decisions as-
Features
Benefits
Uniqueness
What are the features? What benefits are being offered? Is the product uniquely solving an issue?
Customer Feedback
If you really want to analyse customers to fulfill customer needs better, you need to take customer feedback. Interviewing customers who have worked with you can help ease out any points of friction. You will understand what to improve, build, and change.
Understand Customer Motivations
Bottom Line
Developing a customer-centric culture is the key to business growth. If everything about customer needs is understood, these insights can be used to create appropriate products. This will also help improve marketing, content, social media, and more. Since the focus shifts to the customer needs, it becomes better to analyse them from the point of how they would want it.44
With a good customer success tool, it is possible to understand how customer think and function. This will enable better customer retention and improve growth.
---