Customer success is a growing field. At the current rate of growth, it is imperative to choose a customer success platform that supports multiple activities, offers a range in customer retention strategies and accommodates complex structures. SmartKarrot's latest product feature sets the foundation to manage extended and complex organizational structures and distribution with multi-product capabilities.
With the multi-product architecture, CSMs (Customer Success Managers) and leaders can view and add multiple products. This keeps in mind that all organizations have different structures for their business. Users can group accounts as per their geography, business accounts, or more in a flexible way. Users can also go for pre-set rigid structures or frames to group accounts.
Top Features of Multi-product architecture for Enterprises
Organizations of enterprise level often have multiple products. When an organization acquires a customer for more than one product, they need to know how the suite is performing. This can be simplified and managed with this multi-product architecture.
CSM (Customer Success Manager) Management
Users can segregate or group CSMs as well. Based on region, performance, business unit, and more. This also allows for multiple customer success leaders and teams to be defined. CSM management for SME or enterprises is simpler with the tool. You can leverage how teams are performing and assign them to relevant teams.
Cross Reporting
The platform allows for cross reporting across business units. This creates seamless and enhanced performance. Cross-functional reporting and cross business unit processing will help improve collaboration in an efficient manner. There are increased workflows with diverse individuals from different teams assembling to perform a common task.
Inheritance of Accounts
Transitioning a CSMs portfolio in case they leave the company is easy and simple. If a CSM has a large portfolio, they can be transferred to another with ease. CSMs whether new or existing can be assigned to customer accounts. This improves distribution and makes sure that no account is left unattended. A CSM who takes over an account can view a holistic picture of everything- concept, conversation, communication, content, and churn related to the account.
Easy Association
The platform also allows for easy association of CSM to customer accounts. It is also possible to un-associate CSM to customer accounts. For example- A CSM wants to be associated with a company. They can be assigned that one by removing them from the other ones.
Key Use Cases
Upsell/ Cross-Sell Scenarios
In this feature, you can now look at accounts from various perspectives- portfolio, account category, company name, and more. There is also a financial filter where you can know the utilization. You can see which product is being used to what extent. You can also see which accounts have utilized these features. This helps you track the value and engagement levels of products with customers.
You can also check the set of accounts that meet the criteria- their opportunity details for upselling or cross selling, LTV, ARR, and MRR (Monthly Recurring Revenue). Health scores are also available for each account. Apart from that, you can also add an account that you think has an upsell/cross sell value. You can set the upsell and cross sell value. There is also scope for individual action for each account to trigger reactions. These filter criteria can be saved as an account segment and named accordingly. This will help you create reports for specific features and understand customer behavior better.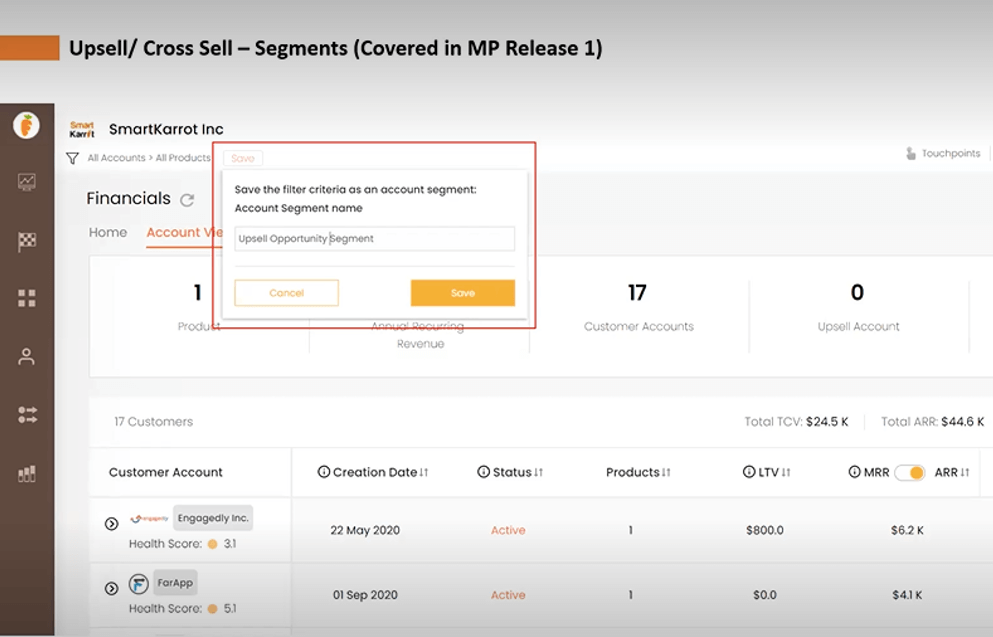 You can add a combination of categories, products. For example- You can create one cross sell list for US customers or for a certain industry customer. You can further break it down as per license types- user, content modules, or other.
Any segment can be defined as a key segment which will show up on the dashboard. You can see how the account is impacted and the resulting ARR. Think of it like different tabs- escalations, at-risk accounts, and more.
Account Management
With this release, you can multi-select accounts and assign a CSM. Bulk assigning makes it simple for large accounts. You can even choose which account needs to be given a primary status. This simplifies account management. Adding an account is also simple. You can either import the account list or add an account with all their details. Account categories include energy, fashion, banking, consumer, education, engineering, automotive, health, fintech, government, FMCG, and more. You can select one or more verticals that fit into your account. You can also know which phase the customer account is going through- onboarding, advocacy, or any other.
Financials Management
You can get an overall view of the financial fabric of the company. A CSM can filter it as per account view or product view. In account view, you can check status, products, MRR/ARR, TCV, and utilization. In product view, you can check which products are performing well. The percentage of upsell or cross sell, opportunity details, and more are available. Utilization alerts are also available at account level. These filters can be saved as a segment.
By saving account segments, CSMs can reuse these filters and get results. In account view, you can also check the percentage and number of accounts up for cross selling or upselling. You can also see the potential of these accounts and define it.
This can be linked to the revenue spread aspect of the SmartKarrot customer success reporting feature. The revenue spread report shows you revenue gained and lost. You can also manage CSM performance and evaluate it based on health scores. You can see how many touchpoints are being involved and tick off appropriate actions. This can be clubbed with account intelligence and business intelligence.
Impact of the feature: multi-product architecture in SmartKarrot CS platform
This business intelligence can help you track multiple products per quarter. You can also understand the capacity of some products to perform versus others. This helps you know scope for product improvement or refinement.
You can also see how touchpoints influence cross selling and upselling. You can get top level account intelligence via reports that show you what worked and why. For example- You get insights like what type of communication worked for a cross sell or an upsell through customer touchpoints, multi-product architecture, and reporting. This helps you understand customers better, track their behavior, anticipate their actions, and manage them efficiently.21
As a multi-product system, SmartKarrot makes it easier than ever for customers to reach customer success by enabling them to make decisions based on data intelligence that triggers relevant action. To improve your customer success outcomes and ensure customer retention, get in touch.
---